Keto Brisket with Mushrooms Recipe
---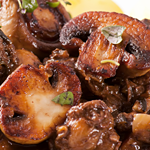 2.4g
Net Carbs
Prep Time: 15 Minutes
Style:American
Cook Time: 120 Minutes
Phase: Phase 1
Difficulty: Moderate
* Any adjustments made to the serving values will only update the ingredients of that recipe and not change the directions.

How to Calculate Atkins Net Carbs
How to Calculate Atkins Net Carbs
Atkins Net Carbs = Total Carbohydrates – Fiber – Sugar Alcohols/Glycerin (if applicable)
×
---
INGREDIENTS
15 piece Dried Porcini Mushrooms

1 tablespoon Extra Virgin Olive Oil

4 lb Beef Brisket (Whole, Trimmed to 1/8" Fat)

2 medium (2-1/2" dia) Onions

1 1/2 tsp Garlic

1 can (14 oz), ready-to-serve Beef Broth, Bouillon or Consomme

1 tsp, crumbled Bay Leaf

0 1/2 tsp Salt

0 1/4 tsp Black Pepper
DIRECTIONS
Place mushrooms in a small bowl with 3/4 cup of water. Microwave on high until water boils; remove and let mushrooms cool to room temperature.  Chop onions and mince garlic, set aside.
Heat oil in a large Dutch oven over medium heat. Brown brisket on one side. Turn and add chopped white onions; continue browning. When onions are brown, add minced garlic; cook 1 minute more.
Remove mushrooms from soaking liquid (reserve liquid). Rinse mushrooms, chop then place them into the Dutch oven. Strain soaking liquid through a coffee filter to remove grit and add to Dutch oven.
Add the beef broth, bay leaf, salt, and pepper. Cover; reduce heat to low and cook 2 to 2 1/2 hours, until brisket is tender. Transfer brisket to a cutting board.
Increase heat to high and cook until juices thicken slightly. Remove bay leaf. Cut brisket against the grain into thin slices and serve with the mushroom gravy.
Cooking Tip
Whether you're feeding a family or cooking for one, you can update the serving settings above to reveal the required amount of ingredients.
Featured Low Carb Recipes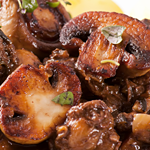 Keto Brisket with Mushrooms