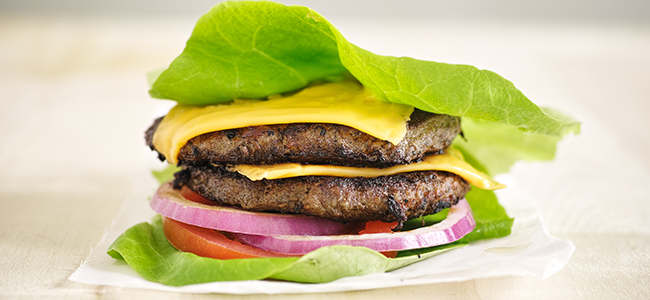 Fire up the grill and invite your friends and family over for a National Cheeseburger Day celebration on September 18. Atkins compiled a list of low carb cheeseburger recipes that offer a fun twist on the traditional patty-and-cheese combo.
Atkins Beef Burger with Feta and Tomato
Pull out all the stops and impress your friends with this gourmet, low carb cheeseburger. This patty combines beef, scallion, spinach, tomato, and feta, so each bite offers a bit of gooey cheese. It contains 24.3g of protein, 13.4g of fat, 0.5g of fiber, 1.3g of net carbs, and 231 calories per patty.
Atkins Chipotle-Apple Turkey Burgers
One turkey burger patty is bound to fill you up for hours, with 35.1g of protein, 21g of fat, 1.9g of fiber, 6.4g of net carbs, and 363 calories. Within each burger you'll find grated apples, chipotle peppers, ground turkey, turkey sausage, garlic, and salt. Once cooked, top each patty with a slice of cheddar cheese and allow it to melt before you take a bite.
Atkins Cheddar Burger with Sautéed Mushrooms and Onions
A lean ground beef patty is the heart and soul of this delicious cheeseburger. Forgo the bun and top with sautéed mushrooms, onions, and an ounce of cheddar cheese. Each burger contains 42.2g of protein, 31.1g of fat, 0.4g of fiber, 3.7g of net carbs, and 472 calories.
Atkins Lettuce-Wrapped Cheddar Veggie Burger with Tomato and Hummus
This meatless patty contains 25.4g of protein, 17.4g of fat, 7.1g of fiber, 10.6g of net carbs, and 322 calories. Top with a slice of tomato, a dollop of organic hummus, and a slice of cheddar cheese. Wrap up in Butterhead lettuce and enjoy!
Atkins Spinach and Feta Turkey Burgers
The cheese is baked right into this turkey burger recipe, which calls for eggs, garlic, feta cheese, spinach, and turkey. Each patty offers 30.7g of protein, 11.4g of fat, 0.4g of fiber, 0.8g of net carbs, and 228 calories.