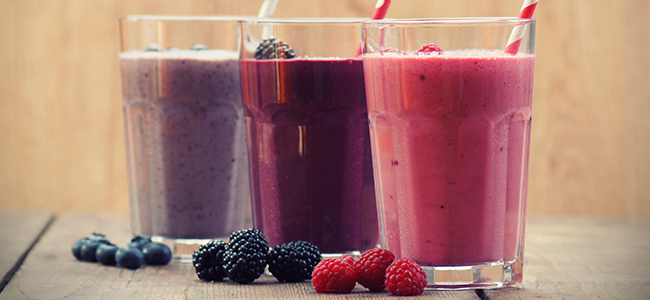 When looking for a quick nutritious breakfast or sweet dessert, nothing seems to fit the warm spring weather better than a refreshing smoothie. Although smoothies always seem like a healthy option, extra sugar and carbs can often sneak their way into these delicious drinks. Stick to the following fresh, light, and easy low carb smoothie recipes for weight loss:
1. Tropical Raspberry Smoothie
This tasty low carb fruit smoothie kicks the classic beverage up a notch! Made with unsweetened coconut milk, tofu, fresh raspberries, granular sugar substitute, and coconut extract, this recipe can be whipped up in minutes for a great on-the-go breakfast. The 8g of protein and 8.5g of net carbs make it easy to enjoy and sure to satisfy.
2. Chocolate Peanut Butter Smoothie
For a sweeter selection, this low carb dessert smoothie is just what you're looking for. At 8.1g net carbs, it's easy to enjoy the flavor combination of coconut milk, cocoa powder and no-added-sugar peanut butter. The added sugar-free chocolate protein powder keeps you full enough to overcome the craving to grab high carb sweet treats.
Not a fan of fresh fruit? Excite your taste buds with this green low carb smoothie full of avocado, goat cheese, heavy cream, lime juice, fresh chives, and salt. Perfectly rich, this tasty avocado smoothie has only 4.5g net carbs and takes only 5 minutes to make. Spice things up by adding fresh jalapenos!
4. Vegan Almond-Raspberry Smoothie
Lose the dairy without losing the creamy taste. Grab this vegan low carb fruit smoothie recipe, made with only four ingredients: unsweetened almond milk, soy protein powder, fresh raspberries, and whole almonds. The recipe has 6.3g net cabs and only 291 calories for a healthier snack.
Browse through our 1,600+ low carb recipes for additional low carb smoothie recipes and register with Atkins® today to start achieving your weight loss goals.