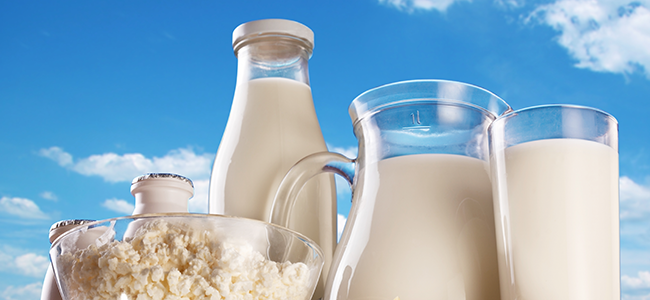 The month of June not only marks the start of summer, but it also kicks off National Dairy Month. There's a lot to love about milk, cheese, yogurt, and other dairy products because they're low in carbs and contain essential nutrients including calcium, protein, potassium, and vitamin D. There is no better way to celebrate our nation's dairy producers than eating right with a few Atkins inspired low carb dairy recipes.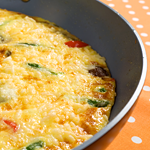 Breakfast is the most important meal of the day and an opportune time to get a serving of dairy. The ham and Swiss cheese frittata combines sweet red peppers, parsley, and onion, which will add a savory flavor to your breakfast. This Italian-inspired dairy recipe is loaded with 24.8g protein and only 2.6g net carbs per serving.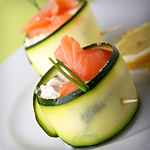 Smoked Salmon Cucumber and Cream Cheese Roll-Ups
This five-minute dish makes a perfect light lunch or last-minute appetizer during dairy month! The Smoked Salmon Cucumber and Cream Cheese Roll-Ups are not only easy to make but also contain 18.7g protein and 5.5g net carbs per serving.
Marinated Goat Cheese with Fresh Oregano
Snacking between meals doesn't mean you have to cut corners on your low carb lifestyle! Snack happy and healthy during National Dairy Month with Marinated Goat Cheese topped with Fresh Oregano. This Mediterannean-inspired snack contains 6.2g protein and 0.5g net carbs per serving. Make sure to serve this dish with low carb crackers or raw veggies!
Adding cheese to a dish can make anything taste better, including vegetables! Get a serving of veggies and dairy from our Artichokes with Three Cheeses. This low carb dairy recipe has 14.2g protein and 5.3g net carbs per serving. Bake this dish to your desired level of crispiness and enjoy!
Finish off your National Dairy Month celebration on a sweet note with a Chocolate-Cream Frosty. Made with heavy cream, this low carb dairy drink packs 1.6g protein and 4.8g net carbs per serving. Enjoy this ice-cold beverage on a hot summer day when you're craving a sweet treat!
Now that you've got your National Dairy Month recipes, it's time to invite some friends over for a
tasty celebration. Don't forget to check out our other Atkins recipes to continue your low carb
living.