Questions & Facts About Atkins Products
We do not recommend consuming any Atkins product if it is thawed due to the risk of bacteria growth.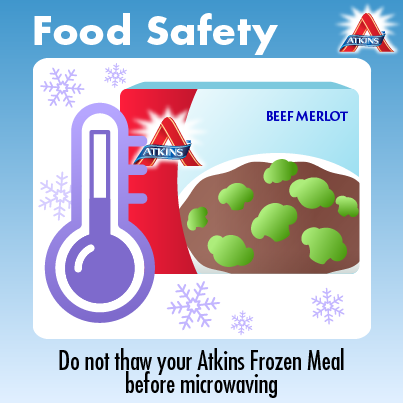 The tray is not designed as a permanent container and should not be reused.
Follow the package directions while being mindful that microwave ovens do vary and can cook unevenly which can result in cold spot where bacteria can survive. Overcooking can cause the food to become tough or rubbery. We suggest cooking at the minimum amount of time, then heating in 30 second increments until the meal is heated through.
For more information on how to microwave food properly - watch this video.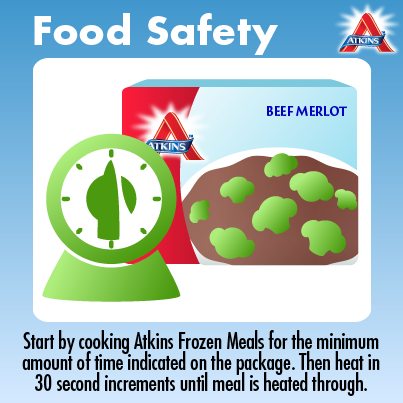 Atkins shakes are packaged in Tetra Pak's that allows even the most sensitive products (like our milk based shakes) to stay fresh up to 12 months without refrigeration. The cap on the Tetra Pak cuts through a foil seal when opened; therefore the shake is completely sealed until you are ready to consume it.
Atkins bars contain known allergens (tree nuts, peanuts, soy, wheat and milk.) Bars that do not contain a specific allergen are produced in facilities where these products are used, therefore cross contamination can occur. We follow all FDA guidelines for notification of allergens.
Atkins labels their food products that contain ingredients that are major food allergens, with a "CONTAINS" statement per FDA regulations as follows:
"Place the word "Contains," followed by the name of the food source from which the major food allergen is derived, immediately after or adjacent to the list of ingredients, in a type size that is no smaller than that used for the ingredient list".
The only time that this "Contains" allergen statement would need to be placed on the front panel would be if this were a single ingredient food, which doesn't apply to any Atkins products.
Please be sure to read the declared allergen statement along with the ingredients on any products you purchase as your health and wellbeing is our number one concern.
Our bars are made on automated manufacturing lines where they produced and packaged by machine automation. This reduces the risk of contamination due to the lack of human intervention and ensures product consistency.
To find a list of all Atkins Product, click our PRODUCTS tab to view our Fresh Recipe Delivery, Atkins Meal Kits, Bars, Frozen Meals, Shakes, and Treats.
Please visit the our STORE LOCATOR tab and simply enter your city/state or zip code to view a list of stores in your area that carry Atkins products.
We have three online solutions that are convenient and customizable:
1. To order Atkins Bars, Shakes and Treats visit http://shop.atkins.com/. You can also call 1-855-972-0514 to place an order.
2. To order Atkins Meal Kits visit http://kits.atkins.com/. You can also call 1-888-435-2448 to place an order.
3. To order Atkins Fresh Recipe Delivery Kits visit https://www.chefd.com/collecti.... You can also call 1-844-552-4333 to place an order.

We cannot guarantee the product's freshness and quality once past the expiration date. If you purchased the product after the 'Best Used By' date, we suggest you return the product to the store where it was purchased for a refund or exchange.
Atkins Frozen Meals are designed for the requirements of the Atkins Diet which limits net carbohydrates. When dieters eat less than 50 net carbohydrates as is recommended, it has a diuretic effect on the kidneys and speeds up the amount of salt and water your kidneys get rid of. We recommend supplementing with additional sodium in the early stages of the diet to make up for this diuretic effect on your kidneys. There is a range of sodium values in our meals. If you have specific health related issues, we recommend consulting with your physician about whether or not our Frozen Meals are appropriate for you.
Our facilities are not certified gluten-free because cross-contamination can occur and traces of gluten can be on the products. Also note that gluten is not directly recognized as an allergen covered by FDA regulations. If the gluten is derived from wheat, then WHEAT would be listed as an allergen (not GLUTEN) because wheat is required to be listed as it is one of the 8 major food allergens requiring labeling. If the gluten is derived from either barley or rye, then there's no requirement to add either grain to the Allergen Statement. Atkins products may contain barley (often the source for malt extract) or rye and it will not be listed in the allergen statement or called out in the ingredients because they may be found in flavorings or other ingredients.
None of the Atkins frozen meals are certified gluten free due to cross contamination. Several of the Atkins meals contain wheat and are labeled with this allergen accordingly.
Atkins shakes do not have ingredients that contain wheat, barley, or rye.
Atkins bars may contain barley, rye, wheat, and wheat gluten. Many bars contain oats that are processed in facilities that process wheat, barley or rye. We recommend that you read the label prior to consuming to ensure that the bar meets your allergen needs.
We apologize for any inconvenience this may cause, but your health is our number one concern and we want you to make the best choice to meet your dietary needs.
Atkins products are not certified Kosher or Halal due to the use of collagens in many of our products.