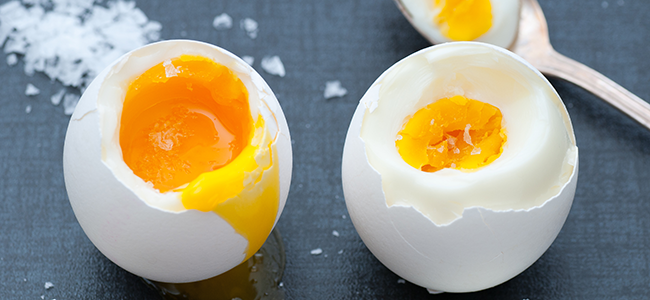 When you wake up on Friday, October 9, pay tribute to the most celebrated of breakfast foods—the egg—on World Egg Day. Eggs are an excellent source of nutrition, as they contain every single B vitamin as well as a complete range of amino acids. They also house several hard-to-find minerals including iodine and selenium.
Atkins has many low carb egg recipes to choose from. Read on for a handful of our favorite easy egg breakfast recipes, listed below.
Green Bell Pepper Filled with Creamy Eggs and Spinach
You can squeeze in an extra serving of veggies at breakfast with this yummy recipe. Fry spinach, eggs, and pepper jack cheese in a pan. Slice a green pepper in half and scoop the egg mixture inside. This entrée includes 19.7g of protein, 32.7g of fat, 2.2g of fiber, 4.9g of carbs, and 396 calories.
This Sausage and Egg Muffin Cups recipe looks impressive but only takes about 30 minutes to pull together, not including prep time. The "cup" is actually made of pork Italian sausage and ground turkey; the wells in a muffin tin lend the cup shape. The recipe contains 31.3g of protein, 23.6g of fat, 0.5g of fiber, 1.6g of net carbs, and 353 calories.
Poached Eggs over Tomato, Avocado, and Muenster
If you like your eggs poached, try this low carb recipe. With 20.3g of protein, 28g of fat, 5g of fiber, 4.9g of net carbs, and 366 calories, this poached egg dish is filling and tasty. Tip: Before you crack the egg and add it to your boiling pot of water, be sure to reduce the stovetop heat. There should be only a few bubbles remaining in the pot when you add the egg.
Give your traditional scrambled egg recipe a Mile High City makeover. Toss in chopped onions, green sweet pepper, red tomato, fresh ham, and red or cayenne pepper for some extra zest. This breakfast dish will help keep you full until lunch, with 38.9g of protein, 46.2g of fat, 1.8g of fiber, 5.7g of net carbs, and 605 calories.
This low carb egg casserole is perfect for entertaining, but simple enough to make for a quick breakfast at home too. With 17.1g of protein, 27.3g of fat, 0g of fiber, 2g of net carbs, and 324 calories, this gooey dish combines heavy cream, parmesan cheese, and unsalted butter for a satisfying breakfast entrée.