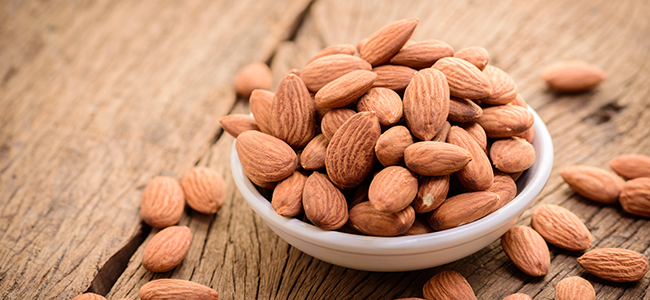 Almonds are incredible little nuts. Packed with more fiber, calcium, vitamin E, riboflavin, and niacin than any other tree nut, almonds have been linked to heart disease prevention, bone strength, and even immune system health. The health benefits of almonds have been researched for decades by scientists. Below Atkins has compiled some of the most surprising benefits of eating almonds, along with facts about almond nutrition, and quick tips for how to incorporate this superfood into your diet.

Heart Health
It's widely agreed that eating almonds reduces your risk of heart disease. The positive effects of almonds on heart health are magnified when almonds are substituted for other foods. For example, it is estimated that eating nuts in place of carbohydrates can reduce heart disease risk by 30%.
Tip: Use almond flour instead of all-purpose flour. Experiment with savory substitutions like this Atkins almond and parmesan pizza crust or sweet treats like these almond muffins.
Cholesterol
Almonds contain large amounts of heart-healthy monounsaturated fat, which can help lower LDL (bad) cholesterol levels. Swapping almonds for food items high in saturated fats—such as meat and dairy—can reduce heart disease risk by 45%.
Tip: Use almond milk instead of cow's milk. Build muscle with a protein rich shake like this Atkins vegan almond-pineapple smoothie.

Immune System Health
The high amounts of vitamin E in almonds boost the immune system and help stave off infections.
Tip: If you feel a cold coming on, grab some almonds. Warm up and boost your body's defenses with Atkins roasted cauliflower and almond cream soup.

Bone Strength
Almonds are high in calcium and vitamin E, and their brown skins contain many antioxidant flavonoids. Together these nutrients strengthen bones, help repair muscles, and reduce inflammation, which make almonds a fantastic recovery food for athletes.
Tip: Snack on a handful of raw almonds after working out to help your bones, muscles, and joints recover.
Weight Gain
Almonds have been linked to the prevention of weight gain. People who eat nuts, such as almonds, at least twice a week may be less likely to gain weight than those who do not.
Tip: Eat at least two meals per week with almonds in them. Try zucchini pasta with almond pesto or this chicken stuffed with apple, almond and cheese.