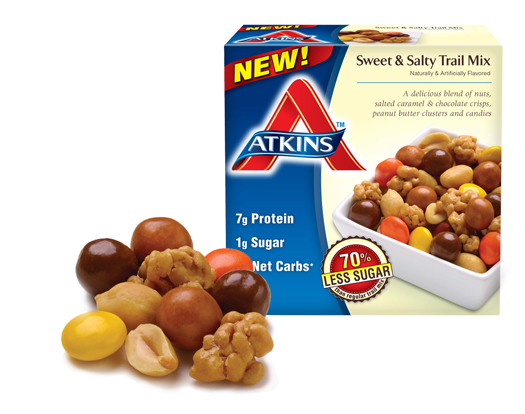 New Atkins Trail Mix Products
If you love trail mix, then you're in luck! This March, two new Atkins products are coming to a store near you—Classic Trail Mix and Sweet & Salty Trail Mix. Both trail mix products will fit into a low carb diet so you can snack on either mix without guilt. Trail mix is a versatile snack with a lot of variety and makes for a great snack on-the-go.
Classic Trail Mix
This trail mix blend throws nuts, chocolate clusters, raisins and candies all together into one delicious snack. Classic Trail Mix might even bring back memories of childhood as you munch on this fun treat. This trail mix has 7g of protein, 2g of sugar, 4g of fiber and 190 calories per serving. What's more is that Classic Trail Mix only has 4g net carbs per serving. If you're interested in trying out this snack, search for
stores in your area carrying Classic Trail Mix.
Sweet & Salty Trail Mix
Atkins Sweet & Salty Trail Mix takes nuts and adds them to a combination of salted caramel & chocolate crisps, peanut butter clusters and candies. After all, what's better than chocolate and peanut butter? Sweet & Salty Trail Mix has 7g of protein, 1g of sugar, 3g of fiber, 190 calories and 4g of net carbs.In order to find Sweet & Salty Trail Mix, then check out our
product locator.
Ideas for eating Trail Mix
Take your trail mix on a hike—hikers eat trail mix on a regular basis because it's easy to bring on a hike.Going on a hike could even mean just going on a walk around the neighborhood.
Pack some trail mix when you head out on a vacation.Whether you're flying or driving to your destination, it's always good to have a snack with you. That way you can avoid junk food from fast food restaurants and overpriced treats from airport shops.
If you happen to be hosting a party, then you could even put out some trail mix in a bowl as an appetizer or dessert so that party goers have a low carb alternative available. Party food is usually the opposite of low carb so your guests will appreciate having the choice.
The Classic Trail Mix and Sweet & Salty Trail Mix can help you stay on track by adding variety to your low carb diet. Our philosophy is that you should never have to give up anything completely when you're on a diet, which is why we create delicious snacks and treats that are Atkins approved. We hope you love our new products!