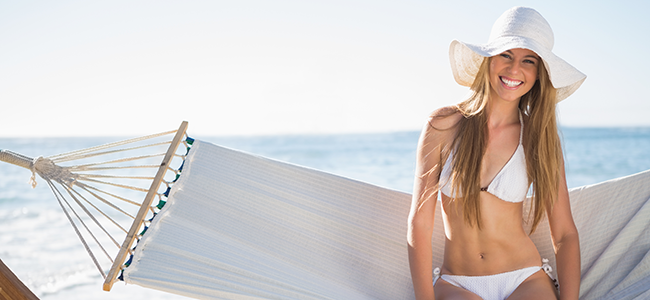 The first day of summer is just around the corner – time to get fit and feel good about your "bikini body." To prepare to impress, you first have to find the perfect summer body diet that works for you. It's easy to be active when the weather gets nicer, but an easy diet can make a huge difference.
To look good and feel confident on the beach this summer, try some of these eating tips and low-carb recipes from Atkins and set your summer diet in motion:
Enjoy Seasonal Vegetables: You can never have too many veggies and summer brings on a full variety of greens that are healthy and delicious. Try incorporating some of the season's freshest vegetables into your meals, such as green beans, tomatoes, beets, zucchini, summer squash or sugar snap peas.
For a tasty summer lunch, try Herbed Smoked Salmon in Tomato Halves. Highlighting the sweet taste of ripe tomatoes, the recipe takes only 20 minutes to prepare and has only 3.4g of Net Carbs.
Skip the High-Carb Meals: Limiting your intake of sugar and carbohydrates can lead to successful weight loss. When you eat a low-calorie meal that's still high in carbs/sugar, your body goes through a cycle of unwanted cravings. To lose weight, stick to eating 20-40g of Net Carbs per day.
Surprise your taste buds with low-carb recipes that still taste delicious, like seasonal Zucchini Pasta with Almond Pesto. A lighter take on spaghetti, the recipe has only 4.8g Net Carbs.
Choose a Protein-Packed Lunch: To keep you going strong throughout the day, make sure you pack your lunch with protein. This can help kick cravings for unhealthy afternoon snacks and keep you satisfied even with an active summer lifestyle.
This Chicken Breast and Arugula Salad recipe has 40.9g of protein and is full of flavor at 11.9g of Net Carbs.
Take a look at our recipes section to find more low-carb recipes perfect for summer diets, like these Fresh Salmon Cakes with Avocado Tartar Sauce.