New Low Carb Stir Fry & Turkey Frozen Meals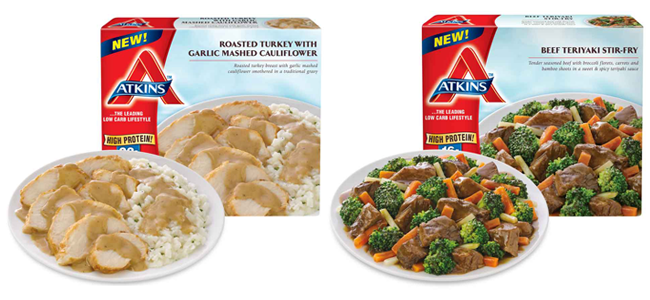 From working late in the office to taking care of unexpected emergencies with the kids, sometimes life throws you some curve-balls—interfering with time to prepare meals. Luckily, Atkins Frozen Meals keep your low carb diet on track even when it seems there aren't enough hours in the day. This May, try our new Beef Teriyaki Stir-Fry and Roasted Turkey with Garlic Mashed Cauliflower Frozen Meals. These two products are made with the right ingredients and in the right portion size to help you lose weight while satisfying your cravings.
Beef Teriyaki Stir-Fry
When you're running short on time, our low carb stir fry brings quality taste to your dinner table within minutes. This dish combines tender beef, broccoli florets, carrots and bamboo shoots in a sweet and spicy teriyaki sauce to make a flavorful entrée. Our Beef Teriyaki Stir-Fry has 16g of protein, 3g of sugar, 4g of fiber and 260 calories per serving. Plus, it only packs 6g of net carbs. For a meal made in no time, pick up this delicious high-protein product at a store near you.
Roasted Turkey with Garlic Mashed Cauliflower
Stay on track with your low carb diet while saving time in the kitchen with this appetizing dish. Our low carb turkey meal brings together the savory flavors of roasted turkey breast with garlic mashed cauliflower and traditional gravy. With 23g of protein, 2g of sugar, 4g of fiber, 380 calories and 6g of net carbs per serving, our Roasted Turkey with Garlic Mashed Cauliflower curbs your cravings and leaves you satisfied. Use our product locator to find this frozen meal at your nearest grocery store.
Food Safety Tips for Eating Frozen Meals
When preparing Atkins Frozen Meals, do not thaw before heating to reduce risk of bacteria growth.
If microwaving, be mindful that microwaves vary and cook unevenly. We recommend cooking your Frozen Meal at the suggested minimum amount of time, then heating in 30 second increments until heated through. Note that overcooking can make food tough or rubbery.
Do not reuse the Frozen Meals trays. Toss after use.
Our Beef Teriyaki and Roasted Turkey with Garlic Mashed Cauliflower Frozen Meals help you stay on track with your low carb diet when you need a quick meal. Atkins offers an assortment of options, such as our Frozen Meals, so you can enjoy a low carb diet plan with variety. We hope you love our new products!