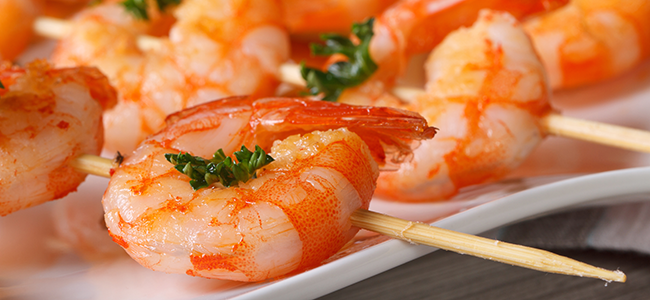 When looking for delicious seafood recipes, Shrimp Scampi always comes up as a favorite. In fact, the savory shrimp dish, usually cooked with butter, garlic, lemon juice and white wine, has become so popular that it is celebrated annually on April 29 during National Shrimp Scampi Day. You don't need to stray from your low carb diet to celebrate. Try a low carb shrimp scampi dish or another one of these low carb shrimp recipes and join the shrimp extravaganza:
Shrimp Scampi with Zucchini, Red Bell Peppers and Pesto
For a classic dish with a pesto twist, this low carb shrimp scampi recipe is sure to please the whole family. Taking only 30 minutes total from start to finish, this dish is a great dinner option to make in a flash. The recipe has 8.4g of net carbs and 48.9g of protein to leave you satisfied.
The perfect addition to spring gatherings, this chilled shrimp bisque recipe is delicious and refreshing! Made with unsalted butter, chopped onion, clam juice, shrimp, heavy cream and thyme this recipe can be prepared and enjoyed in 25 minutes. The recipe has 5g of net carbs and 27.9g of protein, so it is low on carbs but not low on shrimp flavor.
Mexican Shrimp and Vegetable Salad
If you're in the mood for Mexican, this shrimp dish has that delicious south-of-the-border taste. Complete with carrots, turnips, green salsa, shrimp, tomatoes, avocados and topped with fresh cilantro, the recipe makes a fun and delicious dinner! At only 8.5g net carbs 4.9g of fiber and 33g of protein, this dish is full of zest and is on the healthier side.
Take a look at our
recipes section to find more easy low-carb shrimp meals to celebrate National Shrimp Scampi Day, like this coconut shrimp recipe.