Atkins' low carb diet can be a perfect plan for vegetarians too. Our low carb vegetarian recipes are filled with proteins and lots of flavor to satisfy you at your next meal. Here our some of our favorite mouth-watering vegetarians recipes to keep you on your low carb diet: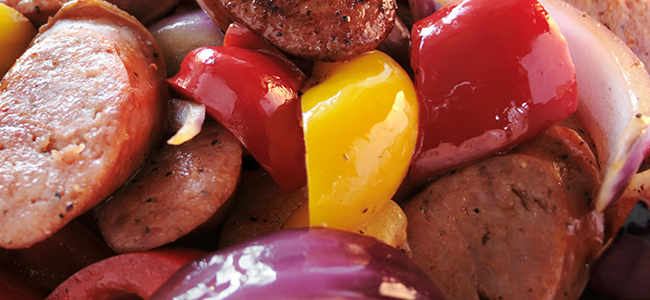 1. Low Carb Vegetarian Sausage Sauté with Red Bell Pepper and Onions
Swap out your regular morning sausage for two veggie breakfast sausage patties in this Meatless Monday meal. Sautéed bell peppers and white onions add a zesty kick. With 23.9g of protein, 29.5g of fat, 3.6g of fiber, 11g of net carbs, and only 420 calories per serving, this low carb vegetarian breakfast will keep you full until lunchtime.
2. Scrambled Eggs with Goat Cheese and Asparagus
Wake up to a hearty dish of scrambled eggs next Monday morning. This low carb vegetarian meal combines two large eggs, an ounce of goat cheese, and three stalks of asparagus for 21.9g of protein, 19.1g of fat, 1.2g of fiber, 3.8g of net carbs, and 280 calories per serving.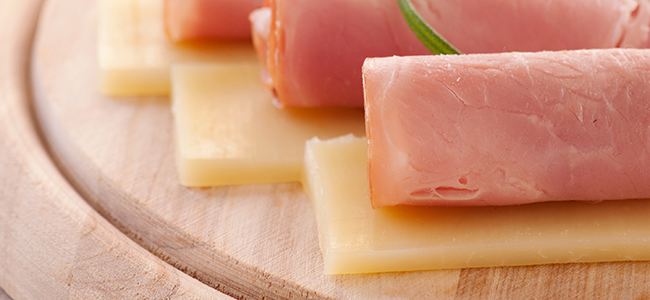 3. Vegetarian "Turkey" and Provolone Cheese Roll-Ups
This meatless lunchtime recipe is easy to make and fun to eat. Simply spread mustard on a slice of faux-turkey, layer with provolone cheese and roll up. Dress it up with a slice of avocado.One serving contains 35.3g of protein, 30.8g of fat, 7.6g of fiber, 8g of net carbs, and 468 calories. Enjoy with a side of fresh fruit.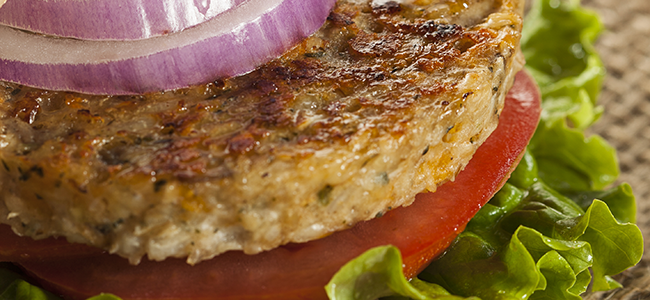 4. Lettuce-Wrapped Cheddar Veggie Burger with Avocado and Onion
You'll hardly notice the absence of a real beef patty with this lettuce-wrapped cheddar veggie burger. Layer the veggie patty with your favorite burger toppings, including sautéed white onions, avocado, or cheddar cheese. In lieu of a hamburger bun, use a crispy piece of butterhead lettuce.One serving contains 23.7g of protein, 24.8g of fat, 9g of fiber, 7.6g of net carbs, and 373 calories.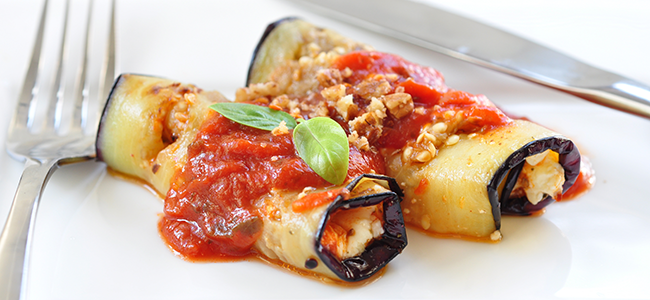 A popular Italian entrée gets a healthy, Meatless Monday makeover in this satisfying dinner recipe. Instead of the traditional rollatini, swap in vegetarian-friendly eggplant. The filling consists of ricotta, mozzarella, eggs, cheese, parsley, salt, and pepper. This dinner contains 24.7g of protein, 31.1g of fat, 5.7g of fiber, 11.2g of net carbs, and 433 calories.
Whether you're vegetarian or just trying to reduce your meat consumption, these five low carb vegetarian recipes are perfect for you. Browse through our low carb recipes for additional ideas today.