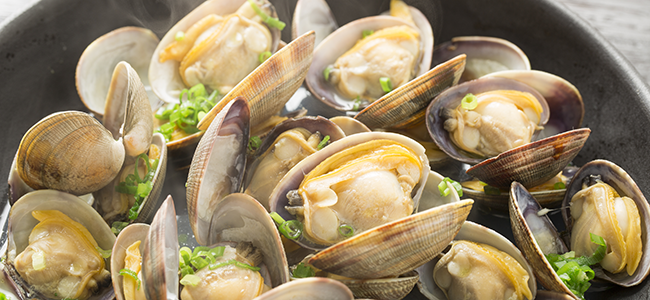 Did you know that March 31 happens to be National Clams on the Half Shell Day? One great way to celebrate this holiday is with fresh clams, but canned clams can also work in a number of clam recipes if you don't have any fresh clams on hand. The low carb clam chowder recipes listed below work well for lunch or dinner, while the clam dip recipe can make for a fantastic snack when served with vegetables.
New England Clam Chowder is an old standby that will never let you down. This recipe requires heavy cream, bacon, celery, chicken broth, clam juice, clams, cauliflower, Worcestershire sauce, Tabasco sauce, and parsley. Usually, New England clam chowder recipes will use potatoes as an ingredient, but this version of clam chowder side steps the issue by throwing cauliflower into the mix. That's why one serving of chowder only has 10.9g net carbs.For an alternative to oyster crackers, try these flavorful
Zucchini Crisps.
If you prefer Manhattan clam chowder to New England clam chowder, then you're in luck because this next recipe is a low carb version of Manhattan clam chowder.Bacon, onion, celery, garlic, thyme, stewed tomatoes, zucchini, vegetable broth, clam juice, clams, and parsley come together to make a chowder you can't resist. Our recipe for Manhattan Clam Chowder has even fewer carbs than New England Clam Chowder—Manhattan Clam Chowder has 6.9g net carbs. A bowl of this soup with a
Green Salad with French-Style Dressing would be an ideal meal.
For an entirely different type of clam recipe, try Sour Cream Clam Dip.Sour Cream Clam Dip combines mayonnaise, onion, lemon juice, Worcestershire sauce, and celery seeds with sour cream and clams. Cut up some fresh vegetables and you have the perfect low carb substitute for chips and dip. This dip recipe has 2.8g net carbs per serving.
While March 31 might be designated as an important day to enjoy eating clams, clam recipes are easy to throw together on any day of the year. Whether you try your hand at making clam chowder or the clam dip, you're sure to have found a new favorite recipe.