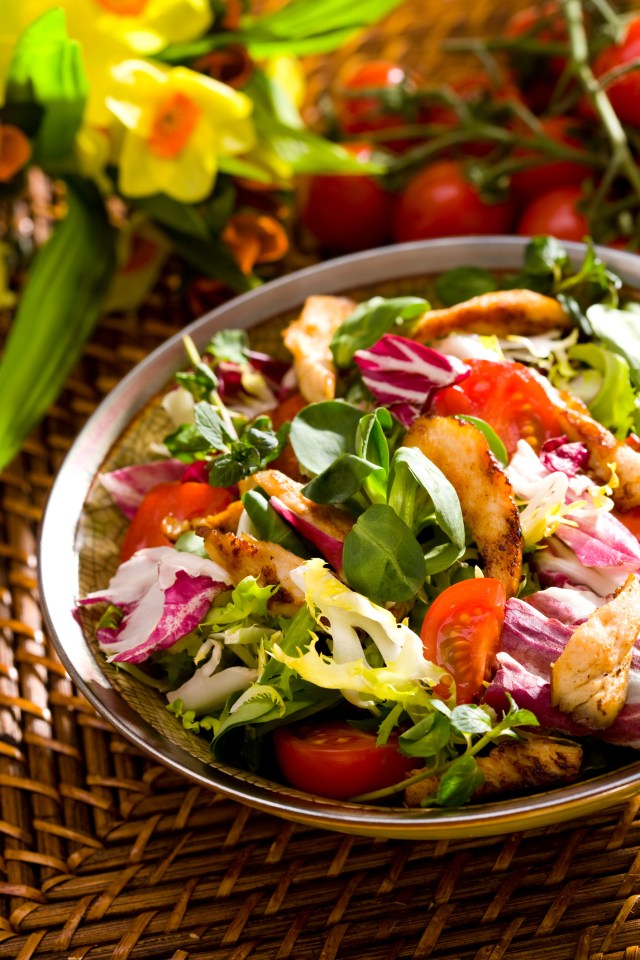 8 Fresh Tips for a Low Carb Cleanse
Cut back on carbs.
Fill up with fiber.

Boost fiber-rich vegetable intake with plant-based meals featuring non-starchy meals.
Lighten up your low carb meals.
Increase your water intake.
Go organic if you'd like.
Try Intermittent Fasting (IF).

Create a list of low carb recipes.

5 Low Carb Cleanse Recipes for Spring
8 Tips for a Low Carb Spring Cleanse
8 tips for a low carb spring cleanse and 5 delicious recipes for clean low carb eating.
Are you ready to give your eating habits a spring clean after a little over-indulging over the past months? While a low carb lifestyle naturally cleanses your system of sugar and excess refined carbohydrates, switching your focus to nutrient-rich, lighter low carb meals can be a nourishing change after the low carb comfort food of the chillier months.
8 Fresh Tips for a Low Carb Spring Cleanse
1) Cut back on carbs. If you're currently doing Atkins 100, step back to Atkins 40 for a bit, or go from Atkins 40 to Atkins 20 for a cleansing reset.
2) Fill up with fiber. One of nature's favorite cleansers, fiber naturally helps you feel fuller for longer, which may help reduce your food cravings. Your body does not break down fiber, so it slows the entrance of glucose into your blood stream, reducing the blood sugar spikes that may encourage your body to produce and store fat. 5 Ways to Get More Fiber on Low Carb
3) Boost fiber-rich vegetable intake with plant-based meals featuring non-starchy vegetables. These vegetables are low in carbs and calories and add fiber, nutrients, texture and flavor to your meals.
4) Lighten up your low carb meals. Focus on nourishing, yet light, meals such as soups, salads and smoothies.
5) Increase your water intake. Water is the ultimate cleanser. And drinking more water may help with weight loss by making you feel full, it is important for digestive health and may boost mood and energy levels. Tip: Infuse your water with flavor by adding fresh fruits, vegetables or herbs. Start your day with herbal tea or warm water and lemon.
6) Go organic if you'd like. While organic vegetables, fruit, dairy, eggs, poultry and meat may cost a bit more, they tend to be higher in nutrients and healthy fats and you'll have less exposure to pesticides while supporting sustainable farming practices.
7) Try Intermittent Fasting (IF). Fasting—eating only during certain times of day—is not necessary on your naturally cleansing low carb lifestyle, since your body has already been trained to burn fat for fuel and you're able to have more control over your blood sugar levels. But sometimes it doesn't hurt to give your digestive system a break by fasting after dinner for 12 to 16 hours. This also helps eliminate mindless midnight munching. Intermittent Fasting 101 and Intermittent Fasting FAQs
8) Create a list of low carb recipes. Do some research and put together some go-to clean-eating low carb recipes for anytime you want to do a quick clean-eating reset.
8 Low Carb "Detox" Recipes and Tips
How Atkins Can Be Your Low Carb Cleanse
5 Low Carb Cleanse Recipes for Spring
Clean up your low carb meals with soups, a salad or a bowl that can either serve as lunch or dinner, plus a crunchy plant-based low carb snack.
Spring Asparagus Soup This recipe is all about fresh asparagus in season while spinach leaves add another pop of green and antioxidant-rich flavor all bathed in nutrient-rich chicken bone broth. Whip of a batch in the beginning of the week so you can sip on this soup for lunch or dinner.
Avocado Zucchini Soup This creamy soup is packed with spring vegetables. In addition to zucchini and avocado, you'll find red bell peppers and the combo of spring green onions and fresh lemon juice.
Shrimp is lightly poached in lime, rice vinegar and black peppercorns, then the shrimp and beets are marinated with tamari, green onions, lime, sesame oil, rice vinegar, fresh ginger, garlic and red chili pepper. Arugula makes up the base of the poke bowl and is a low carb swap for rice. Cucumber, radishes, bean sprouts and sweet onion add layers of crunch and flavor, while crispy seaweed tops the shrimp and beets.
This one-skillet "salad" combines chicken with crisp-tender radish and green onions and red bell pepper, plus romaine lettuce, and is tossed with a red wine vinegar-Dijon vinaigrette for a colorful and unique take on the typical weekday salad.
Here's a super simple snack featuring slices of water-rich cucumber (perfect to add a boost to your hydration) and store-bought organic hummus. You can customize your snack with some of your other favorite veggies, such as sliced radishes or bell peppers. You can also make your own hummus with a Spicy Hummus recipe.