Tamari-Lemon Pork Loin with Snap Peas Recipe
---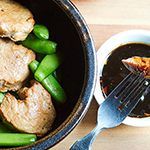 10.2g
Net Carbs
Prep Time: 0 Minutes
Style:American
Cook Time: 45 Minutes
Phase: Phase 2
Difficulty: Difficult
* Any adjustments made to the serving values will only update the ingredients of that recipe and not change the directions.

How to Calculate Atkins Net Carbs
How to Calculate Atkins Net Carbs
Atkins Net Carbs = Total Carbohydrates – Fiber – Sugar Alcohols/Glycerin (if applicable)
×
---
INGREDIENTS
1 fruit (2-1/8" dia) Lemon

1 clove Garlic

4 tbsp Tamari Soybean Sauce

3 tsp The Original Worcestershire Sauce

1 tsp Sesame Oil

14 oz Pork Loin (Tenderloin)

6 oz Snow or Sugar Snap Peas

1 tablespoon Olive Oil

0 1/4 tsp Black Pepper

0 1/4 tsp Salt
DIRECTIONS
Preheat oven to 375 ºF.  Juice lemon into a medium bowl and discard seeds; set aside.  Finely chop garlic and add to the bowl with the lemon juice.  Add the tamari sauce, Worcestershire sauce, sesame oil and ¼ teaspoon each of salt and pepper. Place HALF of the marinade into a small bowl and reserve for later use.
Pat dry pork tenderloin with paper towels and slice into ½-inch rounds.  Add the pork to the medium bowl and coat each piece with the marinade.  Let the pork marinate for 10 minutes.
While the pork is marinating, remove the ends from the snap peas and discard ends.
Remove the pork from the marinade (discard marinade )and evenly place the pork on a sheet pan lined with foil and roast in the oven for 8 to 10 minutes or until desired doneness. (USDA recommends cooking pork to a minimum of 145°F)
Heat a medium non-stick sauté pan over medium-high heat and add 1 tablespoon of olive oil.  When the oil is hot, add the snap peas and sauté for 3 to 5 minutes or until fork tender.  Season with a pinch of salt and pepper and mix to combine.
In the center of two plates, place the snap peas and pork tenderloin.  Serve the reserved marinade as a dipping sauce in a small ramekin.  Enjoy!
Cooking Tip
Whether you're feeding a family or cooking for one, you can update the serving settings above to reveal the required amount of ingredients.