Keto Salmon Rillettes Recipe
---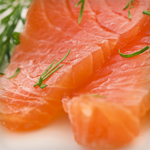 1.8g
Net Carbs
Prep Time: 135 Minutes
Style:Other
Cook Time: 10 Minutes
Phase: Phase 1
Difficulty: Difficult
* Any adjustments made to the serving values will only update the ingredients of that recipe and not change the directions.

How to Calculate Atkins Net Carbs
How to Calculate Atkins Net Carbs
Atkins Net Carbs = Total Carbohydrates – Fiber – Sugar Alcohols/Glycerin (if applicable)
×
---
INGREDIENTS
4 oz raw wild atlantic salmon, fillet

0 1/2 cup Tap Water

0 1/4 cup Unsalted Butter Stick

3 oz Smoked Chinook Salmon (Lox)

0 1/2 tsp Lemon Zest

0 1/2 fl oz Fresh Lemon Juice

0 43/48 tbsp fresh Dill

1 tbsp chopped Chives

0 1/8 tsp Black Pepper

1 cucumber (8-1/4") Cucumber (with Peel)
DIRECTIONS
In a small saucepan, combine the wild salmon and water; bring to a boil over medium-high heat. Reduce heat to medium-low, cover, and simmer until salmon is opaque throughout, about 7 minutes. Transfer to a plate, and let stand until cool.
In a food processor, combine butter and smoked salmon; process until smooth. Flake wild salmon in a large bowl. Add the smoked salmon mixture, lemon zest, lemon juice, dill, chives and pepper. Stir well to combine.
Spoon the mixture into a small bowl or two small ramekins. Cover, and refrigerate at least 2 hours or overnight.
Remove rillettes from refrigerator 1 hour before serving to soften.
Serve spread with cucumber slices.
Cooking Tip
Having a party? When planning your low carb spread, think about which dishes you can make in advance and which need fresh ingredients that day.
Featured Low Carb Recipes