Keto Peanut Butter Chocolate Thumbprints Recipe
---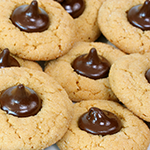 2.9g
Net Carbs
Prep Time: 5 Minutes
Style:American
Cook Time: 25 Minutes
Phase: Phase 1
Difficulty: Difficult
* Any adjustments made to the serving values will only update the ingredients of that recipe and not change the directions.

How to Calculate Atkins Net Carbs
How to Calculate Atkins Net Carbs
Atkins Net Carbs = Total Carbohydrates – Fiber – Sugar Alcohols/Glycerin (if applicable)
×
---
INGREDIENTS
1 cup Natural Creamy Peanut Butter 1/3 Less Sodium & Sugar

1 large Egg (Whole)

1 cup Sucralose Based Sweetener (Sugar Substitute)

1 tsp Baking Soda

0 1/4 tsp Salt

4 oz Lily's Sugar Free Chocolate Chips

1 tbsp Heavy Cream
DIRECTIONS
This recipe is suitable for all phases of the Atkins diet except the first two weeks of Induction.  One serving is one cookie.  
Preheat oven to 350°F. Line two sheet pans with parchment paper.
Combine the peanut butter, egg, granular sugar substitute, baking soda and salt in a medium bowl. Mix until all ingredients are fully incorporated. It will thicken up with stirring into a semi-firm dough.
Divide dough into 4 equal parts. Make 6 equal balls out of each quarter of dough. About 24 cookies total. Place balls on sheet leaving 1-inch between each. Flatten slightly by lightly pressing down on each with the bottom of a glass (do not over flatten, leave it thick enough for the thumb print well).
Bake for 7 minutes, remove from oven, make indentations in the center by pressing the handle end of a wooden spoon into each cookie, return to the oven and bake until edges are golden another 8-10 minutes more. Allow to sit on the pan for 5 minutes before removing to a cooling rack, cool completely.
Place chocolate in a microwave safe bowl with the cream. Microwave in 10-20 second intervals stirring in between until chocolate is melted. Stir to fully incorporate the cream and smooth out the texture. Spoon about 1 tsp of chocolate into the indentations in the cookies. Allow chocolate to set up, this can be done quickly by placing the finished cookies in the refrigerator for 5-10 minutes.
Store cookies in a single layer in a air tight container for up to 1 week. The nutritionals listed are for 1 cookie.
Cooking Tip
We love the idea of customizing this recipe to make it your own! If you add any ingredients, just be sure to keep an eye on net carbs.
Featured Low Carb Recipes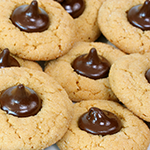 Keto Peanut Butter Chocolate Thumbprints