Mocha-Hazelnut Ice Cream Recipe
---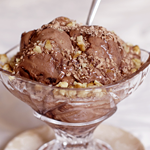 6.1g
Net Carbs
Prep Time: 255 Minutes
Style:American
Cook Time: 18 Minutes
Phase: Phase 2
Difficulty: Difficult
* Any adjustments made to the serving values will only update the ingredients of that recipe and not change the directions.

How to Calculate Atkins Net Carbs
How to Calculate Atkins Net Carbs
Atkins Net Carbs = Total Carbohydrates – Fiber – Sugar Alcohols/Glycerin (if applicable)
×
---
INGREDIENTS
3 1/2 cup Heavy Cream

3 oz Unsweetened Baking Chocolate Squares

0 1/3 cup Cocoa Powder (Unsweetened)

3 tsp, rounded Coffee (Instant Powder, Decaffeinated)

6 large Egg Yolk

1 cup Sucralose Based Sweetener (Sugar Substitute)

1 tbsp Vanilla Extract

0 1/3 cup, chopped Hazelnuts or Filberts Nuts
DIRECTIONS
In a medium saucepan, combine 3 cups of the cream, chocolate, cocoa powder and coffee granules; cook over medium-low heat, stirring occasionally, until chocolate melts and mixture just begins to simmer. Remove from heat and cool to room temperature. Whisk until smooth.
In a medium bowl, whisk egg yolks, remaining 1/2 cup cream and sugar substitute together until blended. Gradually whisk 1 cup of chocolate mixture into yolk mixture; add to saucepan with remaining chocolate mixture and whisk to combine.
Cook over medium-low heat, stirring constantly, until mixture coats the back of a spoon (175°F on a candy thermometer), about 3 minutes. Remove from heat; stir in vanilla and cool slightly.
Pour custard into a glass or metal bowl; cover with plastic wrap and refrigerate for 4 hours or overnight. Pour custard into ice-cream maker; freeze according to manufacturers directions.
During last 5 minutes, add hazelnuts. Transfer to an airtight container, cover and freeze for 4 hours or overnight. Let stand at room temperature until soft enough to scoop, about 15 minutes.
Cooking Tip
We love the idea of customizing this recipe to make it your own! If you add any ingredients, just be sure to keep an eye on net carbs.
Featured Low Carb Recipes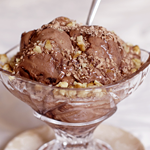 Mocha-Hazelnut Ice Cream