Mediterranean Zucchini Noodles with Eggplant Recipe
---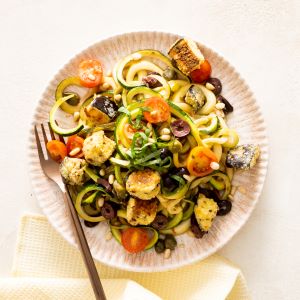 10.6g
Net Carbs
Prep Time: 65 Minutes
Style:Mediterranean/Greek
Cook Time: 45 Minutes
Phase: Phase 2
Difficulty: Moderate
* Any adjustments made to the serving values will only update the ingredients of that recipe and not change the directions.

How to Calculate Atkins Net Carbs
How to Calculate Atkins Net Carbs
Atkins Net Carbs = Total Carbohydrates – Fiber – Sugar Alcohols/Glycerin (if applicable)
×
---
INGREDIENTS
207 g Eggplant, raw

0 1/4 tsp Salt

0 1/2 each Egg (1 large fresh, whole, raw egg = 50g)

0 1/4 cup Parmesan cheese, grated (1 cup= 100g)

3 tablespoons Great Value Superfine Blanched Almond Flour

0 3/4 teaspoon Italian seasoning

0 1/4 tsp Garlic Powder

0 1/8 tsp Red Chili Pepper, crushed

0 1/8 tsp Salt

10 g AVOCADO OIL MAYONNAISE DRESSING, AVOCADO OIL Unilever Bestfoods North America

0 1/4 cup Olive Oil

12 gram(s) Garlic, raw ( 1 clove= 3g; 1 teaspoon= 5g)

4 oz Wine, white, sauvignon

3 pieces Sun-Dried Tomato, in oil

20 each Kalamata Olives

2 Tbsp Capers

15 oz Zucchini, Large (323g each)

16 each Cherry or Grape Tomato

4 tsp Pine Nuts, raw

2 g Basil, fresh (1 cup= 24 g)
DIRECTIONS
Cut the eggplant into 1-inch cubes, sprinkle with ¼ teaspoon salt, and arrange in a single layer on a paper towel lined plate. Let sit for 45 minutes to release moisture.
While the eggplant is releasing moisture, begin the sauce. In a medium heavy bottom pot, warm the olive oil over medium low heat. Add smashed and sliced garlic and cook to infuse the oil for about 3 minutes, ensuring garlic does not brown. Add minced sun-dried tomato and wine and bring to a simmer, reducing heat if needed to keep to a simmer for about 5 minutes. Add sliced olives and capers and continue to simmer for 5-10 minutes more. Remove from heat.
In a medium bowl, whisk the egg. In another small flat bottom bowl, combine the parmesan cheese, almond flour, Italian seasoning, garlic powder, red pepper flakes, and 1/8 teaspoon salt until evenly combined. Dry the eggplant cubes with a clean kitchen towel or paper towel, then toss them with the egg to evenly coat. Press each side of each cube into the cheese coating and place on a plate. Spray opposite sides of the coated eggplant cubes with avocado oil spray.
Warm air fryer to 390°F, fry eggplant cubes in a single layer for 2-3 minutes, then gently shake to flip and cook for another 2-3 minutes, working in batches as needed. Set aside.
Place the olive sauce over medium heat, add the zucchini noodles and halved cherry tomatoes. Cook, tossing to evenly coat the noodles, until noodles are warmed through, about 10 minutes. Divide noodles evenly between 4 bowls, about 1 ½ cups each. Top each bowl with one quarter of the eggplant cubes, (46 g or a heaping ½ cup), a teaspoon of pine nuts, and thinly sliced basil for garnish. Serve warm.
Cooking Tip
This recipe is inspired by traditional puttanesca sauce, although it leaves out the anchovies so it is vegetarian friendly. If desired, you can add 4 finely diced anchovy fillets along with the sun-dried tomatoes to add a depth of flavor and umami to this recipe, without adding any carbohydrates.
Featured Low Carb Recipes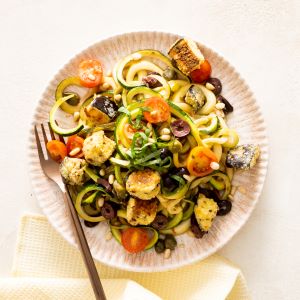 Mediterranean Zucchini Noodles with Eggplant