Low Carb Mediterranean Eggplant Salad Recipe
---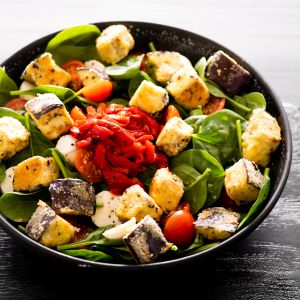 6.2g
Net Carbs
Prep Time: 65 Minutes
Style:Mediterranean/Greek
Cook Time: 15 Minutes
Phase: Phase 2
Difficulty: Moderate
* Any adjustments made to the serving values will only update the ingredients of that recipe and not change the directions.

How to Calculate Atkins Net Carbs
How to Calculate Atkins Net Carbs
Atkins Net Carbs = Total Carbohydrates – Fiber – Sugar Alcohols/Glycerin (if applicable)
×
---
INGREDIENTS
207 g Eggplant, raw

0 1/4 tsp Salt

0 1/2 each Egg (1 large fresh, whole, raw egg = 50g)

0 1/4 cup Parmesan cheese, grated (1 cup= 100g)

0 3/4 teaspoon Italian seasoning

0 1/4 tsp Garlic Powder

0 1/8 tsp Crushed Red Pepper Flakes

0 1/8 tsp Salt

10 g AVOCADO OIL NON-STICK COOKING SPRAY, AVOCADO OIL Safeway, Inc.

0 1/4 cup Olive Oil

30 g PESTO SAUCE, PESTO Delhaize America, Inc.

2 Tbsp Red Wine Vinegar

0 1/8 tsp Salt

5 oz Spinach, baby

16 each Cherry or Grape Tomato

160 g FRESH MOZZARELLA CILIEGINE Wakefern Food Corporation

0 1/2 cup Roasted Red Pepper Strips, jarred
DIRECTIONS
Cut the eggplant into 1-inch cubes, sprinkle with ¼ teaspoon salt, and arrange in a single layer on a paper towel lined plate. Let sit for 45 minutes to release moisture.
In a medium bowl, whisk the egg. In another small flat bottom bowl, combine the parmesan cheese, almond flour, Italian seasoning, garlic powder, red pepper flakes, and 1/8 teaspoon salt until evenly combined. Dry the eggplant cubes with a clean kitchen towel or paper towel, then toss them with the egg to evenly coat. Press each side of each cube into the cheese coating and place on a plate. Spray opposite sides of the coated eggplant cubes with avocado oil spray.
Warm air fryer to 390°F, fry eggplant cubes in a single layer for 2-3 minutes, then gently shake to flip and cook for another 2-3 minutes, working in batches as needed. Set aside.
Make the pesto dressing. In a small bowl, whisk together ¼ cup olive oil, red wine vinegar, pesto and 1/8 teaspoon salt.
To assemble the salads, evenly divide the spinach between 4 bowls. Top each bowl with 4 halved mini mozzarella balls, 4 halved cherry tomatoes, 2 tablespoons roasted red pepper strips, and one quarter of the fried eggplant cubes (about 46 g or a heaping ½ cup). Dress each salad with 2 tablespoons pesto dressing and enjoy!
Featured Low Carb Recipes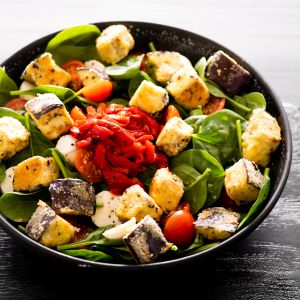 Low Carb Mediterranean Eggplant Salad