---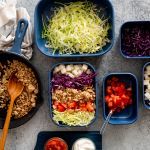 6.7g
Net Carbs
Prep Time: 13 Minutes
Style:Mexican
Cook Time: 5 Minutes
Phase: Phase 1
Difficulty: Moderate
* Any adjustments made to the serving values will only update the ingredients of that recipe and not change the directions.

How to Calculate Atkins Net Carbs
How to Calculate Atkins Net Carbs
Atkins Net Carbs = Total Carbohydrates – Fiber – Sugar Alcohols/Glycerin (if applicable)
×
---
INGREDIENTS
1 Tbsp Canola Oil

3 oz Ground Turkey

0 1/48 tsp Salt

0 1/4 teaspoon Chili powder

0 1/8 tsp Cumin seed, ground

1 1/2 cup Iceberg Lettuce, raw, shredded

1 each Roma Tomato

0 1/4 cup Green or White Cabbage, raw, shredded

0 1/4 cup Jicama, raw, chopped

2 Tbsp Sour Cream

1 Tbsp Red Salsa
DIRECTIONS
Heat 1 teaspoon oil in a small skillet over medium high heat. Brown the turkey meat, gently breaking up, until fully cooked, about 4 minutes. Sprinkle the meat with a pinch of salt, the chili powder and cumin powder and mix until evenly coated; set aside.
In a bowl layer the lettuce, cabbage, chopped tomato, jicama, and cooked meat. In a small bowl, combine remaining canola oil with the sour cream and salsa. Drizzle the sour cream dressing over the bowl and enjoy!
Spice it up! Add ½ teaspoon hot sauce to the sour cream dressing for an extra spice punch that adds a negligible amount of net carbs to this naturally keto and low carb recipe.