Indian Spiced Cauliflower and Purple Sweet Potato Sautee Recipe
---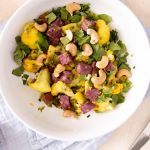 10.4g
Net Carbs
Prep Time: 15 Minutes
Style:Indian
Cook Time: 10 Minutes
Phase: Phase 3
Difficulty: Moderate
* Any adjustments made to the serving values will only update the ingredients of that recipe and not change the directions.

How to Calculate Atkins Net Carbs
How to Calculate Atkins Net Carbs
Atkins Net Carbs = Total Carbohydrates – Fiber – Sugar Alcohols/Glycerin (if applicable)
×
---
INGREDIENTS
1 cup(s) Purple sweet potato, cubed (1 cup cubes= 133 g)

0 1/2 teaspoon GARAM MASALA NATCO Foods Ltd

1 each Jalapeño Pepper

0 1/4 tsp Turmeric, ground

0 2/3 cup Green Onion, raw, chopped

3 cup Cauliflower, florets, raw

0 1/4 tsp SALT Morton Salt, Inc.

1 1/2 Tbsp COCONUT OIL Ventura Foods, L.L.C.

0 1/4 cup(s) Cilantro, fresh (1 cup= 16 g)

3 Tbsp (2 T = 1 oz) Cashews, whole, roasted.

1 1/2 tsp Mustard seed, yellow
DIRECTIONS
In a large skillet over medium heat, warm oil to shimmering. Add mustard seeds and warm until they begin to pop, about 30 seconds. Add sliced green onions and sauté until beginning to become translucent, about 1 ½ minutes. Add bite size cauliflower florets, ½-inch cubes of sweet potato, season with salt and sauté until starting to brown, about 3 minutes.
Pour 2 tablespoons water into the skillet, cover and cook for another 3-5 minutes, until potatoes are softened. Add minced jalapeno, turmeric, and garam masala, stirring to incorporate and evenly coat the vegetables. Taste and season with salt if needed.
Serve warm, topped with chopped cilantro and cashews. Each serving is about ½ cup.
Featured Low Carb Recipes