Fajita Steak and Fresh Guacamole Recipe
---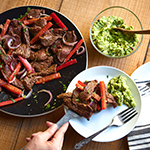 12.5g
Net Carbs
Prep Time: 0 Minutes
Style:Mexican
Cook Time: 0 Minutes
Phase: Phase 2
Difficulty: Difficult
* Any adjustments made to the serving values will only update the ingredients of that recipe and not change the directions.

How to Calculate Atkins Net Carbs
How to Calculate Atkins Net Carbs
Atkins Net Carbs = Total Carbohydrates – Fiber – Sugar Alcohols/Glycerin (if applicable)
×
---
INGREDIENTS
1 fruit (2" dia) LIMES Wegmans Food Markets, Inc.

1 clove GARLIC Iberia Foods Corporation

0 1/2 tsp BLACK PEPPER Finlay Extracts & Ingredients USA, Inc.

1 medium (approx 2-3/4" long, 2-1/2" dia) BELL PEPPERS Pero Family Farms Food Company LLC

0 1/2 tsp SALT Morton Salt, Inc.

12 oz Beef Flank (Lean Only, Trimmed to 0" Fat, Choice Grade)

1 medium Red Onions

1 each California Avocados

0 1/2 tsp Cumin

1 tablespoon OLIVE OIL Salov North America Corp.

0 1/2 oz Cilantro (Coriander)

1 tsp CHILI POWDER Hy-Vee, Inc.
DIRECTIONS
Thinly slice the bell peppers.  Cut the onion in half; finely dice half of one of the halves (1/4 of the onion) and then slice the remaining 3/4 onion.  Mince the garlic then smash with the flat side of a knife into a paste.  Cut the lime into quarters.  Pick the leaves off the cilantro stems.  Set all aside.
Cut the avocado in half and remove the pit.  Scoop out the flesh into a medium bowl and mash with a fork along with the juice of two of the lime wedges.  Add half of the cilantro, diced red onion and pinch of the smashed garlic.  Stir to combine (replace the pit to help from browning and cover until ready to use).
Heat a skillet over medium-high heat with 1 tbsp oil.  Thinly slice the steak across the grain into 1/4-inch strips and season with the chili powder, cumin, 1/4 tsp salt and 1/4 tsp freshly ground black pepper.  Place into the pan and cook, stirring occasionally for 2-4 minutes.  Remove from the pan to a plate and cover loosely.  Reserve the fond in the pan.
In the same skillet add the sliced onions and garlic.  Cook while stirring 1-2 minutes; season with 1/4 tsp each salt and pepper and then add the bell pepper slices cooking another 2 minutes.  Add 1 tbsp water and the reserved meat and any juices back to the pan.  Heat until warmed through; 1 minute.  Plate and serve topped with the guacamole.
Cooking Tip
Whether you're feeding a family or cooking for one, you can update the serving settings above to reveal the required amount of ingredients.
Featured Low Carb Recipes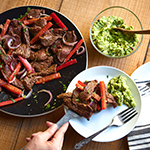 Fajita Steak and Fresh Guacamole