Easy and Festive Keto Chicken Casserole Recipe
---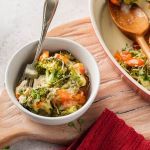 5.9g
Net Carbs
Prep Time: 20 Minutes
Style:American
Cook Time: 40 Minutes
Phase: Phase 1
Difficulty: Moderate
* Any adjustments made to the serving values will only update the ingredients of that recipe and not change the directions.

How to Calculate Atkins Net Carbs
How to Calculate Atkins Net Carbs
Atkins Net Carbs = Total Carbohydrates – Fiber – Sugar Alcohols/Glycerin (if applicable)
×
---
INGREDIENTS
1 cup (8 fl oz) Chicken Stock

1 cup Heavy Cream

3 cup, cooked, diced Rotisserie Chicken

4 cup chopped Broccoli

1 cup, chopped Sweet Red Peppers

1 tbsp Parsley

0 1/2 tsp, leaves Tarragon

2 tbsp Sherry, Cooking Wine

0 1/2 tsp Black Pepper

4 oz Parmesan Cheese (Shredded)
DIRECTIONS
Though this recipe contains alcohol it is considered as a phase 1 recipe because most of the alcohol is cooked off.  However, it is best to avoid this recipe if you are in the first two weeks of Induction.  
Preheat oven to 350°F.
In a medium pot reduce the chicken stock and heavy cream to about 1 cup over medium-high heat; 20 minutes.

Shred rostisserie chicken (you will need 1 chicken for this recipe) and place in a 3 quart casserole dish with the broccoli and chopped red peppers. 

Add parsley, tarragon, cooking sherry and black pepper and half of the cheese to the cream mixture.  Pour this over the chicken and vegetables in the casserole dish.  Top with remaining Parmesan cheese and bake for 30 minutes covered with foil.  Remove the foil and bake an additional 10 minutes until golden on top.
Cooking Tip
Whether you're feeding a family or cooking for one, you can update the serving settings above to reveal the required amount of ingredients.