Double Chocolate Protein Pancakes Recipe
---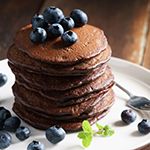 7.2g
Net Carbs
Prep Time: 5 Minutes
Style:American
Cook Time: 15 Minutes
Phase: Phase 2
Difficulty: Moderate
* Any adjustments made to the serving values will only update the ingredients of that recipe and not change the directions.

How to Calculate Atkins Net Carbs
How to Calculate Atkins Net Carbs
Atkins Net Carbs = Total Carbohydrates – Fiber – Sugar Alcohols/Glycerin (if applicable)
×
---
INGREDIENTS
2 Lily's Sugar Free Chocolate Chips

0 1/8 SALT

1 1/3 COCONUT OIL

0 1/4 BAKING POWDER

0 1/2 Cinnamon, ground

2 EGG

0 1/2 Ricotta Cheese, whole milk

1 Quest Chocolate Milkshake Protein Powder
DIRECTIONS
Whisk together the ricotta cheese and eggs.  
Add the protein powder, baking powder, cinnamon and salt.  Blend until uniform.
Heat 1 tsp oil in a non-stick pan over medium heat.  Once the pan is hot add 1/4 of the batter (about 1/4 cup) and quickly smooth it out into a 6-inch round shape with the back of a spoon.  Sprinkle 1/4 of the chocolate chips (1/2 tablespoon) over the surface.  Cook until bubbles begin to form throughout the pancake then gently flip over; cook 2-3 minutes per side.  Repeat for remaining batter to make 3 additional pancakes.
These are delicious served with fresh berries, no syrup is needed as these pancakes are sweet on their own.  Each serving is two 6-inch pancakes.  
Cooking Tip
Whether you're feeding a family or cooking for one, you can update the serving settings above to reveal the required amount of ingredients.
Featured Low Carb Recipes