Cucumber, Onion and Tomato Salad with Creamy Feta Dressing Recipe
---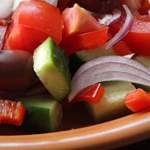 7g
Net Carbs
Prep Time: 15 Minutes
Style:Mediterranean/Greek
Cook Time: 0 Minutes
Phase: Phase 1
Difficulty: Moderate
* Any adjustments made to the serving values will only update the ingredients of that recipe and not change the directions.

How to Calculate Atkins Net Carbs
How to Calculate Atkins Net Carbs
Atkins Net Carbs = Total Carbohydrates – Fiber – Sugar Alcohols/Glycerin (if applicable)
×
---
INGREDIENTS
1 each Cucumber, medium

0 1/4 medium Red Onions

1 large whole (3" dia) Red Tomatoes

2 oz Pitted Kalamata Olives

0 1/4 cup, crumbled Feta Cheese

4 tbsp Peppermint (Mint)

6 tablespoon Extra Virgin Olive Oil

2 tbsp White Wine Vinegar

1 teaspoon Sucralose Based Sweetener (Sugar Substitute)
DIRECTIONS
Evenly dice the cucumbers, onions and tomatoes.  Slice the olives and combine them with the vegetables in a large bowl. Set aside.
Combine the feta cheese, julienned mint, olive oil, vinegar and sugar substitute in a blender and blend until thoroughly combined. If the dressing is too thick add a little water till desired consistency. Season dressing with salt and freshly ground black pepper.
Arrange salad on 4 serving plates and pour dressing on top. Serve immediately
Cooking Tip
Feel free to swap in your favorite lettuce for this recipe, as net carb change will likely be minimal.