Keto Crispy Nacho Chicken Thighs Recipe
---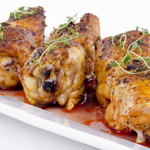 0.4g
Net Carbs
Prep Time: 10 Minutes
Style:Mexican
Cook Time: 40 Minutes
Phase: Phase 1
Difficulty: Difficult
* Any adjustments made to the serving values will only update the ingredients of that recipe and not change the directions.

How to Calculate Atkins Net Carbs
How to Calculate Atkins Net Carbs
Atkins Net Carbs = Total Carbohydrates – Fiber – Sugar Alcohols/Glycerin (if applicable)
×
---
INGREDIENTS
30 gram Parmesan Crisps

1 tsp Chili Powder

2 large Egg

1 tablespoon Olive Oil

0 1/4 cup (8 fl oz) Water

48 oz, with bone, raw (yield after cooking, bone removed) Chicken Thigh

1 each Chipotle en Adobo, whole

0 1/4 cup Real Mayonnaise
DIRECTIONS
Arrange rack in center of oven. Heat oven to 400°F. Line a large baking sheet or broiler pan bottom with foil or parchment paper. Top with an ovenproof rack that will provide good air circulation, such as a cooling rack.
Process the parmesan cheese crackers (these are made only of cheese and are baked in an oven) and chili powder in a food processor to crumbs; set aside.
Whisk eggs, oil and water together in a large bowl. Add thighs and turn to coat.
Lift chicken from egg mixture, letting excess drip back into bowl; coat chicken in crumbs and place on rack on prepared baking sheet. Bake until deep golden and chicken is cooked through, about 40 minutes.
For Chipotle Sauce: While chicken is cooking, dice the chipotle and combine with the mayonnaise in a small bowl; cover with plastic wrap and chill until ready to use. Serve with chicken thighs.
Cooking Tip
Whether you're feeding a family or cooking for one, you can update the serving settings above to reveal the required amount of ingredients.
Featured Low Carb Recipes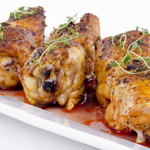 Keto Crispy Nacho Chicken Thighs