Chocolate Ice Cream Recipe
---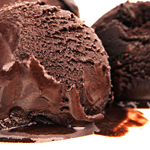 4.2g
Net Carbs
Prep Time: 240 Minutes
Style:American
Cook Time: 10 Minutes
Phase: Phase 2
Difficulty: Moderate
* Any adjustments made to the serving values will only update the ingredients of that recipe and not change the directions.

How to Calculate Atkins Net Carbs
How to Calculate Atkins Net Carbs
Atkins Net Carbs = Total Carbohydrates – Fiber – Sugar Alcohols/Glycerin (if applicable)
×
---
INGREDIENTS
2 cup Heavy Cream

4 large Egg Yolk

10 packet No Calorie Sweetener Packets

0 1/4 cup Cocoa Powder (Unsweetened)

2 tbsp Sugar Free Chocolate Syrup

1 tsp Vanilla Extract
DIRECTIONS


Heat cream in a heavy saucepan over low heat. Whisk in egg yolks, one at a time. Cook over low heat, stirring constantly, until mixture coats the back of a spoon. Do not let boil.
Remove from heat. Whisk in sugar substitute, cocoa powder, chocolate syrup, and vanilla extract.
Cool to room temperature. Pour custard into an ice cream maker and freeze according to manufacturers instructions.


 
Cooking Tip
Atkins Treats make great ice cream toppings, like chocolate covered almonds or a crumbled peanut butter cup (just pay attention to net carbs whenever you add ingredients).