Keto Carbonara Sauce Recipe
---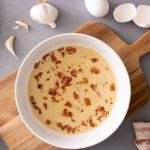 1.7g
Net Carbs
Prep Time: 20 Minutes
Style:Italian
Cook Time: 10 Minutes
Phase: Phase 1
Difficulty: Moderate
* Any adjustments made to the serving values will only update the ingredients of that recipe and not change the directions.

How to Calculate Atkins Net Carbs
How to Calculate Atkins Net Carbs
Atkins Net Carbs = Total Carbohydrates – Fiber – Sugar Alcohols/Glycerin (if applicable)
×
---
INGREDIENTS
6 slice Bacon

5 gram(s) Garlic, raw ( 1 clove= 3g; 1 teaspoon= 5g)

0 3/4 cup Heavy Cream

0 1/2 cup Parmesan Cheese (Grated)

0 1/8 tsp Black Pepper

2 large Egg (Whole)
DIRECTIONS
This rich, naturally low carb and keto sauce is best for long strands of low-carb shirataki noodles (or chick pea, brown rice or soybean pasta in later phases) such as spaghetti or fettuccine.  It can also be served over sauteed eggplant, onions, peppers or spiralized zucchini.  Time the cooking so that the pasta or vegetable base is still very hot when you pour the sauce on. This allows the eggs to continue to cook and thicken.  Each serving is 1/4 cup.  
Cook bacon in a medium skillet over medium heat until crisp, about 6 minutes. Transfer bacon to a plate lined with paper towels; chop in small pieces and set aside.  Spoon off all but 2 tablespoons fat; return skillet to heat. Add minced garlic and sauté until fragrant, about 30 seconds. Add cream, Parmesan and pepper; simmer until cheese has melted, about 1 minute.  
Meanwhile, lightly beat eggs in a medium bowl; slowly whisk hot cream mixture into eggs until completely combined.  Return mixture to skillet over low heat; simmer, stirring constantly, until it begins to thicken, about 3 minutes. Remove from heat; stir in reserved bacon. Serve immediately.
Cooking Tip
Save a little bit of that parmesan cheese to put on top!
Featured Low Carb Recipes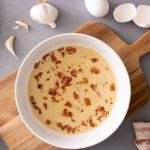 Keto Carbonara Sauce