Asian Beef Salad Single Serving Recipe
---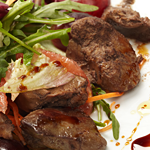 7.6g
Net Carbs
Prep Time: 720 Minutes
Style:Asian
Cook Time: 5 Minutes
Phase: Phase 1
Difficulty: Difficult
* Any adjustments made to the serving values will only update the ingredients of that recipe and not change the directions.

How to Calculate Atkins Net Carbs
How to Calculate Atkins Net Carbs
Atkins Net Carbs = Total Carbohydrates – Fiber – Sugar Alcohols/Glycerin (if applicable)
×
---
INGREDIENTS
0 3/4 SPRING MIX SALAD

0 1/2 Tamari Soybean Sauce

0 1/4 SESAME OIL

0 1/8 CURRY POWDER

0 1/8 Waterchestnuts (water chestnuts)

4 1/4 Beef Top Sirloin (Trimmed to 1/8" Fat, Choice Grade)

0 1/2 GARLIC

0 1/16 GINGER

0 1/8 Sucralose Based Sweetener (Sugar Substitute)

1 Scallions or Spring Onions

0 1/4 SWEET RED PEPPERS

0 1/2 Canola Vegetable Oil

0 1/4 Sodium and Sugar Free Rice Vinegar
DIRECTIONS
Note: Because only half of the marinade is used in this recipe for the salad dressing and the rest is used as a marinade and discarded, please double the first six ingredients. (The nutritionals shown are correct.) For added flavor, use dark (toasted) sesame oil instead of regular sesame oil.  
Mix diced green onions, minced garlic, soy sauce, rice wine vinegar, sesame oil and sugar substitute in a small bowl. Pour half into a resealable plastic bag; add steak and marinate overnight in the refrigerator.
To remaining soy sauce mixture, add curry powder and ginger.Heat canola oil in a large skillet over high heat until very hot.
Drain beef and discard marinade; quickly stir-fry beef 2 to 3 minutes in hot oil for medium doneness. Transfer to a large mixing bowl. Add salad greens, diced bell pepper, water chestnuts and reserved soy dressing. Toss to coat and serve immediately.
Cooking Tip
Feel free to swap in your favorite lettuce for this recipe, as net carb change will likely be minimal.
Featured Low Carb Recipes