Almond Muffin in a Minute Recipe
---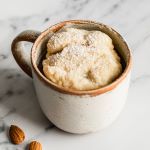 4.5g
Net Carbs
Prep Time: 3 Minutes
Style:American
Cook Time: 1 Minutes
Phase: Phase 2
Difficulty: Moderate
* Any adjustments made to the serving values will only update the ingredients of that recipe and not change the directions.

How to Calculate Atkins Net Carbs
How to Calculate Atkins Net Carbs
Atkins Net Carbs = Total Carbohydrates – Fiber – Sugar Alcohols/Glycerin (if applicable)
×
---
INGREDIENTS
0 1/4 cup Bob's Red Mill Almond Meal/Flour (1/4 cup is 28g)

1 tsp No Calorie Sweetener

0 1/4 tsp Baking Powder (Straight Phosphate, Double Acting)

1 dash Salt

0 1/2 tsp Cinnamon

1 large Egg (Whole)

1 tsp Canola Vegetable Oil
DIRECTIONS
Place all dry ingredients in a coffee mug. Stir to combine.
Add the egg and oil. Stir until thoroughly combined.
Microwave for 1 minute. Use a knife if necessary to help remove the muffin from the cup, slice, butter, eat.
Note: Your MIM can be toasted once it's cooked and topped with cream cheese if you like. Replace the cinnamon with other spices, sugar-free syrup or 1/2 tsp unsweetened cocoa (net carb count will be .2g higher). Add a tablespoon of sour cream for a moister MIM. Change the shape by making it in a bowl.
Cooking Tip
Stirring the dry ingredients is a very important step to make sure your MIM bakes evenly.