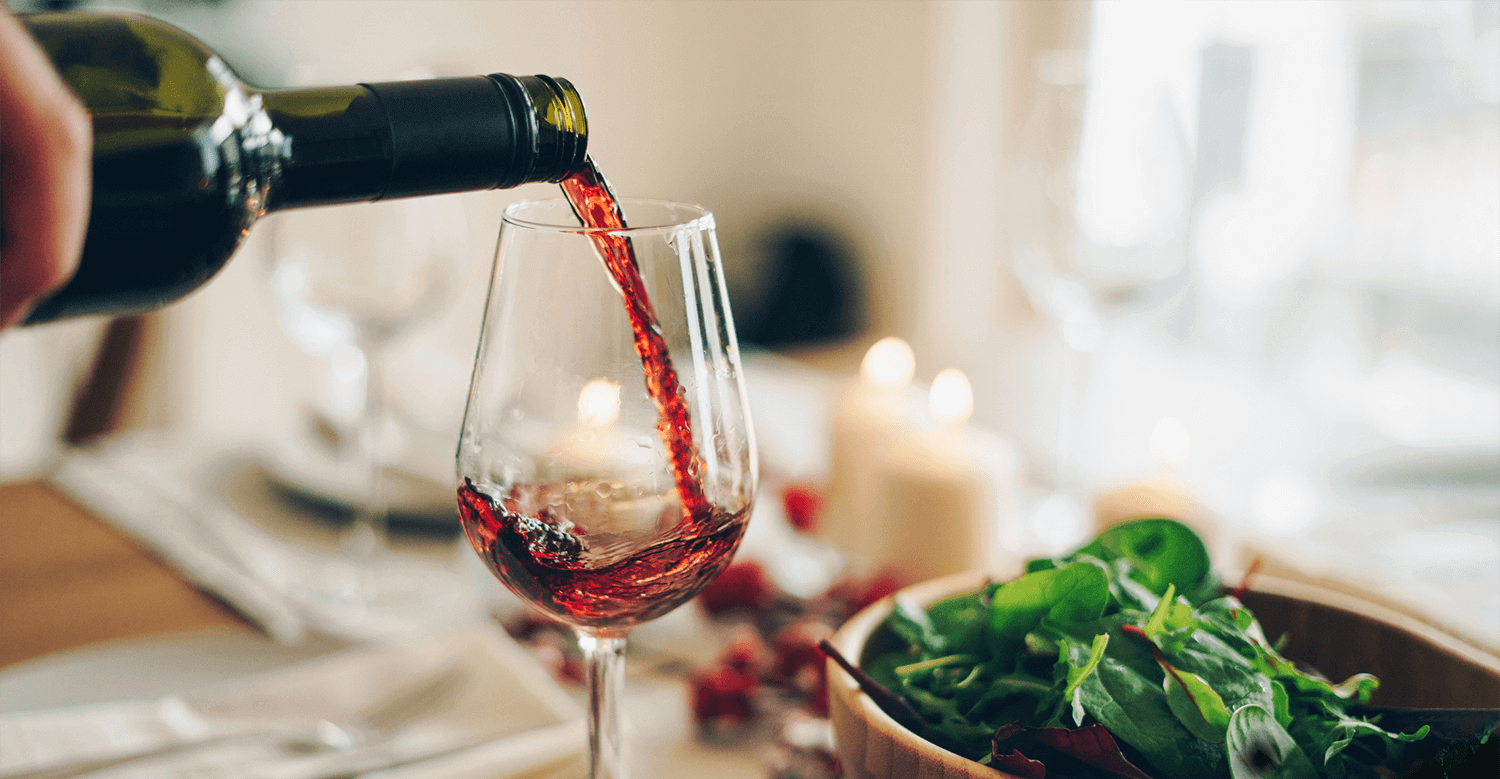 Although wine is typically much lower in carbs than beer and other sugary cocktails, there are still a few downsides to drinking on a Keto diet. Alcohol can hinder your weight loss efforts because your body tends to burn alcohol first before fat, slowing ketone production. Imbibing also can increase our appetites. But no need to stress about every sip! You can still enjoy an occasional tipple with these tips for finding the best low carb and keto-friendly wines.
Look for a Dry Wine
Dry wines are the lowest in carbohydrates. But what does "dry" mean exactly? Many wines contain residual sugar from the fermentation process, and the more residual sugar, the more carbs in the wine. Sweeter wines have a shorter fermentation process, which means less time to break down sugar, and therefore more sugar is left behind. (This is also what gives sweet wines their sugary, fruity flavor).
Wine is considered dry if it contains 10 grams of sugar per bottle or less. Although it is hard to find a totally dry wine, you can find plenty of keto-friendly wine options if you know what types of naturally low-sugar wines to look for. Shop for sparkling wines (i.e. champagne, cava, and prosecco), dry reds like merlot and pinot noir, and whites such as sauvignon blancs. Many bottles will even say "dry" right on the label. Another helpful tip is to look for higher alcohol content wines, as this indicates most of the sugar has been fermented into alcohol.
Sparkling wines labeled Brut and Extra Brut typically have the lowest amounts of residual sugar—as little as 1.5 grams of carbs (or less!) per glass. We'll toast to that!
Despite their light and sweet taste, sauvignon blancs are an excellent choice of keto-friendly wine, with 3 grams of carbs per glass. It's full-bodied cousin, chardonnay, will set you back about 3.2 grams of carbs per glass. Pair these wines with creamy sauces and seafood.
For those looking for a lighter red wine, pinot noir is a great option for any season with just 3.4 grams of carbs per glass. Pinot noir goes well with fish and salads, as well as richer ingredients like mushrooms.
Merlot is an excellent, heavier red wine with 3.7 grams of carbs per serving—a perfect pairing for your steak dinner.
Keep in mind that one serving of wine is typically 5 ounces. So while the occasional glass of wine won't throw off ketosis, multiple glasses or drinking multiple days a week could hinder your goals, especially if you're trying to lose weight.
Do Your Research
Most wine labels don't list standard nutrition facts like other packaged foods, so you may have to do some of your own quick calculations and research to learn more about each bottle's sugar and carb content.
Look for the ABV and residual sugar in the wines you are selecting. As either increases, so do the carbs.
Find a specific wine's technical information by searching the label as well as terms like residual sugar, fact sheet, and/or tech sheet.
Calculate carbs by multiplying the residual sugar level in grams per liter (g/L) by 0.15, which will give you the grams of carbs per 150 ml serving.
In addition to choosing the right type of wine, eating a keto-friendly meal before drinking will help balance your blood sugar. Check out our recipes for ideas.
Wines to Avoid
Watch out for cheaper, budget-driven wines, which tend to have more residual sugar to improve the taste. Other wines with higher carb counts are typically just naturally high in sugar and sweetness. These will also be lower in alcohol content, so if you see a wine with an alcohol content below 13% that is a good sign it has more sugar in it. This includes varieties like zinfandel, riesling, and moscato, and any wine with more than 30 g/L residual sugar or 4.5 grams carbs.
Avoid the following wines while on a keto diet:
Cabernet
Grenache
Moscato
Port, sherry, and other dessert wines
Riesling
Rosé
Sangria (red or white)
Shiraz
Wine coolers and frozen wine pops/drinks
Zinfandel
Feeling like a cocktail instead? Check out this article of more keto-friendly alcoholic beverages. Or, mix up one of the many Atkins recipes for low carb, keto-friendly drinks. For more keto tips and low carb recipes, get started with Atkins today!