Tips for Choosing the Right Low Carb Fast Food Options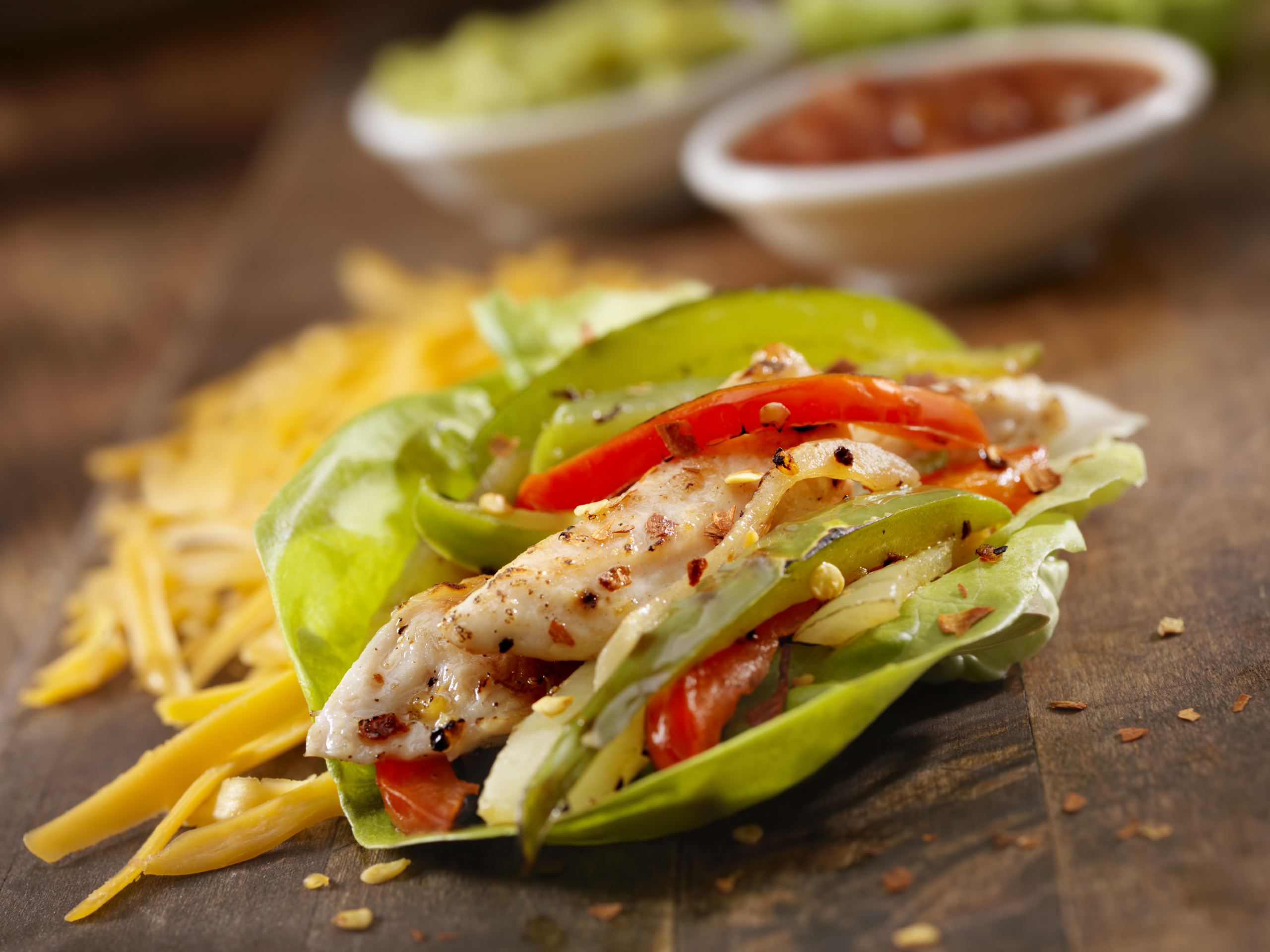 Low carb fast food is hard to come by. Most offerings are full of carbs, whether in the bun, crust, breading, condiments or, of course, fries. As a general rule, it's best to prepare and eat meals at home, but sometimes the need for convenience or affordability demands you eat fast food. Fortunately, low carb fast food options do exist. We've outlined some of our top picks below.
Know that these options may still be high in calories or trans fats, and it's not recommended to make fast food a staple of your diet. However, when you're on the road or need a low-cost meal, the tips and options below will help you stay low carb.
Low Carb Fast Food: General Tips
Skip the Bun: Some establishments let you order a burger wrapped in lettuce leaves, or you can always remove the bun and eat the inside with a fork.
Avoid Fried Food: Some chains now offer grilled, broiled, or roasted chicken that's neither battered or breaded. In a pinch, peel the battered skin off of a piece of fried chicken or fish and eat only the meat. Limit french fries, which are high in trans fats and studies show may trigger cravings for more.
Get Dressing on the Side: Sauces and salad dressings may be full of sugar or corn syrup. Check the ingredients, have it on the side, or even bring your own.
Fill Up on Veggies: Head to the salad bar, or choose a salad from the menu. Top your salad with proteins like ham or chicken and healthy fats, such as sunflower seeds.
Check Nutritional Info: Bigger chains provide complete nutritional data for their foods online. Check these before you order.
Watch Portions: Share your meal with friends, or portion out half when your food arrives, leaving the other half to take home.
Low Carb Fast Food Options
We've included suggestions on what to order and what to avoid at 12 national chains below. Remember that the best approach is to make up your mind before you go and stick to your guns.
Arby's www.arbys.com
Thumbs Up: Minus the bun: Roast Chicken, Roast Turkey, Roast Ham, Roast Beef, Roast Beef melts, Reuben Corned Beef, and BLT sandwiches and the contents of all subs; Chopped Turkey Club Salad with Buttermilk Ranch dressing.
Thumbs Down: Popcorn Chicken; Chicken Filets; most salad dressings and condiments.
A & W www.awrestaurants.com
Thumbs Up: Minus the bun: Hot Dog, Cheese Dog, Coney Dog, hamburgers, cheeseburgers, Grilled Chicken sandwich; Ranch dipping sauce.
Thumbs Down: Chicken Strips, Crispy Chicken Sandwich, Corn Dog Nuggets, BBQ and Honey-Mustard dipping sauce.
Blimpie www.blimpie.com
Thumbs Up: Minus the bun: Deli Subs, Super Stacked Subs, Hot Philly Cheese Steak and Hot Pastrami subs; also Antipasto, Chef, Grilled Chicken, and Tuna salads; blue cheese, Caesar, and oil and vinegar salad dressings.
Thumbs Down: All panini grilled subs, Hot Meatball Sub; Chile Ole and Roast Beef 'n Bleu salads; Blimpie Sauce and Dijon Honey Mustard.
Burger King www.bk.com
Thumbs Up: Minus the bun: All burgers and Whoppers and Tendergrill Chicken Sandwich; Tendergrill Garden Salad (remove the carrots if you're in earlier phases); Ken's Ranch dressing; Ham Omelet Sandwich with/without bacon/sausage (minus the bun and honey butter sauce); Veggie Burger okay for Phases 3 and 4 (minus the bun).
Thumbs Down: Tendercrisp Chicken, Tendercrisp Garden Salad, Chicken Tenders; Honey Mustard and Ken's Fat-free Ranch dressings.
Carl's Jr. www.carlsjr.com
Thumbs Up: Low-Carb Six-Dollar Burger (wrapped in lettuce leaves); minus the bun: Famous Star, Big Carl™, Guacamole Bacon Burger, most other burgers/cheeseburgers, and Charbroiled Chicken Club; Charbroiled Chicken Salad (lose the croutons); House and blue cheese salad dressings; house and buffalo wing sauces.
Thumbs Down: Teriyaki Burger, Parmesan Chicken Sandwich and all other fried chicken and fish dishes; thousand island and low-fat balsamic salad dressings; BBQ, honey, mustard, and sweet and sour sauces.
Chick-fil-A www.chick-fil-a.com
Thumbs Up: Minus the biscuit: breakfast egg, cheese, sausage, and bacon dishes; sausage breakfast burrito (unwrap and discard the tortilla); Chargrilled Chicken Club and Chicken Salad sandwiches minus the bread; blue cheese, Caesar, and buttermilk ranch salad dressings; Buffalo and buttermilk ranch sauces.
Thumbs Down: All breaded and fried chicken dishes; Chick-fil-A sauce and barbecue, honey mustard, and Polynesian sauces; fat-free honey mustard and other low- or no-fat salad dressings.
Dairy Queen www.dairyqueen.com
Thumbs Up: Minus the bun: Grillburgers, hamburgers, cheeseburgers, hot dogs, cheese dogs, grilled chicken and turkey items; side salad (lose the carrots in earlier phases); BBQ, Wild Buffalo, and Ranch dipping sauces.
Thumbs Down: All crispy chicken items; blue cheese, sweet and sour, honey mustard, dipping sauces, all fat-free salad dressings.
Hardee's www.hardees.com
Thumbs Up: Hardee's Alternative Options menu: Low-carb Thickburger, low-carb Breakfast Bowl, and Charbroiled Chicken Club "Sandwich" salad.
Thumbs Down: All other burgers with buns.
KFC www.kfc.com
Thumbs Up: Roasted Chicken Caesar or Caesar side salad, both without croutons; roasted chicken BLT salad; Heinz Buttermilk Ranch Dressing; most wing dishes; green beans, KFC Mean Greens.
Thumbs Down: All fried, breaded or crispy dishes and salads; biscuits, most sides.
Register today and share your favorite low carb combinations with our growing community.